ByFusion teams up with Ocean Voyages Institute to convert 40,000 lbs of plastic waste from the Great Pacific Garbage Patch into construction-grade building material
ByFusion announces off-take partnership with Ocean Voyages Institute (OVI), repurposing 20 tons of marine debris and plastic waste into construction grade building materials. The ByFusion-OVI partnership will 'close the loop' on the largest ocean clean up in history by not only removing plastic waste from our oceans but giving it a permanent purpose by converting it to a building material that can be used for modular structures, landscaping, sheds, outdoor spaces and a number of other applications.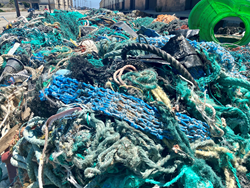 In June 2020 OVI completed a 48-day mission to collect plastic marine debris from the ocean which took place in the Great Pacific Garbage Patch (GPGP), located halfway between Hawaii and California. The GPGP is the largest of the five offshore plastic accumulation zones in the world, spanning an area twice the size of Texas.
The Kwai, the ship collecting the debris, departed from Hilo, Hawaii on May 4, 2020 and returned to Honolulu, Hawaii on June 29, 2020. Mary Crowley, the Founder & Executive Director of OVI, spearheaded the plastic cleanup efforts which ultimately removed more than 100 tons of plastic from the Pacific Ocean, the largest collection in history.
"It's an honor to have all these toxic materials out of the ocean," said Crowley. "They'll be recycled and repurposed— nothing will end up in a landfill, nothing will ever go back in the ocean. The ocean is a source of health for us as a planet and for us as human beings. We have to take care of it and provide a healthy habitat for ocean creatures."
Of the debris collected, ByFusion will repurpose 20 tons into approximately 4,000 construction-grade building blocks which will be put to use in a number of projects, exhibitions, and products that will be available in the market later this year.
"We're thrilled to be a part of this important initiative, supporting the incredible work that OVI is doing to clean up the ocean," said Heidi Kujawa, CEO of ByFusion. "Our zero waste process creates a valuable building material from all types of plastic waste, including marine debris and fishing nets, ensuring the plastic is repurposed and put to good use."
The remaining 80 tons of marine debris will be converted into reusable fuel, shoes, apparel, and more. This record-breaking 103 ton cleanup is just the beginning of collecting and giving purpose to the 150 million tons of plastic polluting the world's oceans.
About ByFusion
ByFusion® is an innovative manufacturing company committed to preserving the recycling industry, protecting the environment and giving plastic a new life by reshaping its future. A certified B Corporation, and an essential cog in the wheel of a circular economy, ByFusion has a patented process that converts all types of plastic waste into an advanced building material called ByBlock®. ByFusion's recycling solution enables communities, corporations and governments to realize a cleaner world while creating jobs, improving infrastructure and revitalizing neighborhoods. ByFusion has been recognized by The New York Times, Forbes, Fast Company, Architect, Recycling Today, WasteDive, 1% for the Planet, US Green Building Council, and the Alliance to End Plastic Waste.