"It is clear, now is the time, our global ocean is at a crucial crossroads. Our ocean cannot be our toxic waste dump. Project Kaisei, established in 2009, continues to inspire innovation on both land and at sea, finding ways to stop our escalation of single-use plastics and to clean-up our decades of ocean abuse."

~ Mary Crowley, Ocean Voyages Institute Founder & Executive Director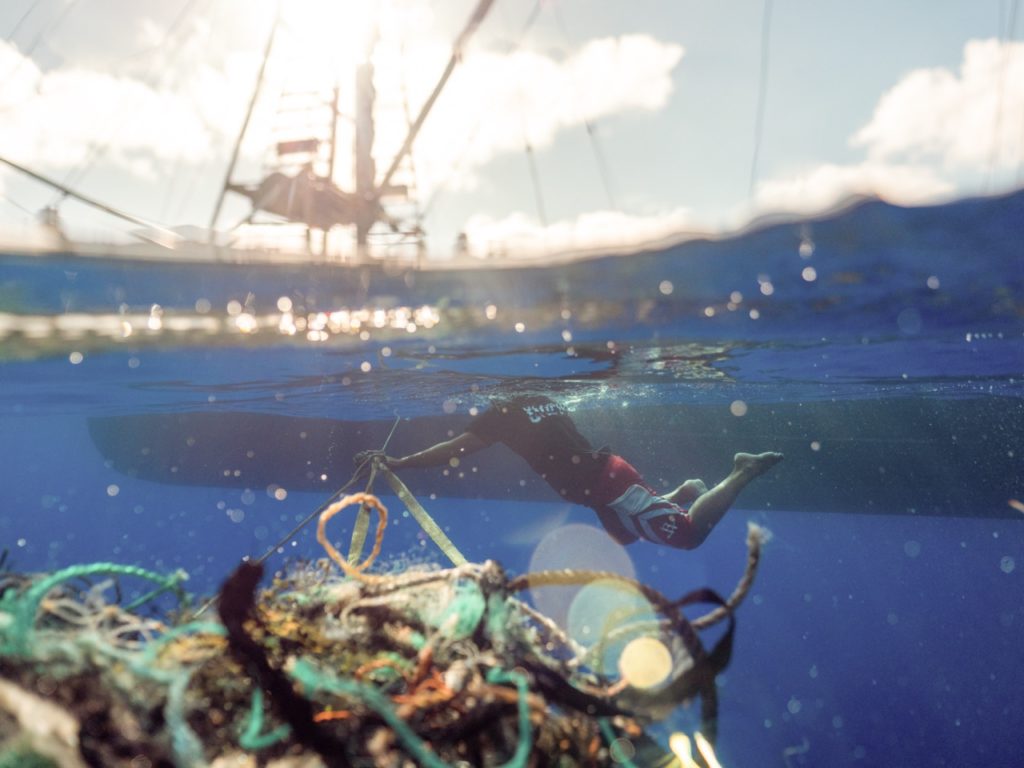 Ocean Voyages Institute (OVI) is a 501(c)3 non-profit organization founded in 1979 by a group of international sailors, educators, and conservationists with a mission of teaching maritime arts and sciences and preserving the world's oceans. OVI is dedicated to providing sail training opportunities to youth on a worldwide basis as well as providing access to the ocean world and educational programs. In 2009, Project Kaisei was launched to focus on major ocean clean-up and to raise awareness regarding the global problem of marine debris/ocean trash.
Ocean Voyages Institute's Board of Directors and volunteers have extensive experience designing and conducting ocean research projects and sailing education programs. OVI has 34 years of experience which includes: creating marine biology courses for high school students, a Soviet/American Sail on the 290-ft square-rigged ship Druzba from Odessa to Baltimore and return, three scientific expeditions to the North Pacific Gyre, convened a Marine Debris Collection Equipment Think Tank and raised global awareness of this marine debris problem.
OVI ANNOUNCES CAMPAIGN TO EXPAND OCEAN CLEANUP EFFORT
Since 2009 Ocean Voyages Institute (OVI) has been sounding the alarm about the mounting threat of ocean plastics—and finding solutions. In our eight cleanup voyages to the Pacific Gyre, mid-way between California and Hawaii, OVI had retrieved more than 700,000 pounds of plastic debris—ranging from household plastic trash to abandoned fishing nets. In 2020, OVI completed the largest open-ocean cleanup in history—recovering and upcycling, recycling and repurposing some 340,000 pounds (170 tons) of plastics. We're now preparing to take these proven methods to scale.
Over the last four years, OVI has developed and successfully employed satellite-tracking technologies to locate and recover some of the largest and most destructive of all plastic pollution—enormous "ghost nets," derelict fishing gear, that drifts below the ocean's surface, entangling ships and entrapping wildlife. In addition to our removal of ghost nets, we have removed tons of consumer debris – both that has been caught by the ghost nets and scooped up by our ships.
With a lead grant from Matson Navigation Company, OVI has launched a campaign to build and operate two custom-designed sailing vessels, enabling OVI to extend our clean-up operations beyond the summer months and focus on collecting plastics in areas of the Pacific most at risk, including Marine Protected Areas.
"OVI's proven method for removing plastics from the ocean efficiently and sustainably is a scalable, viable global solution," says Matson CEO and Chairman Matt Cox. "Matson is proud to support this project, and we look forward to continuing our partnership with OVI to advance its important work in the years to come."