OVI ANNOUNCES CAMPAIGN TO EXPAND OCEAN CLEANUP EFFORT
Since 2009 Ocean Voyages Institute (OVI) has been sounding the alarm about the mounting threat of ocean plastics—and finding solutions. In our eight cleanup voyages to the Pacific Gyre, mid-way between California and Hawaii, OVI had retrieved more than 700,000 pounds of plastic debris—ranging from household plastic trash to abandoned fishing nets. In 2020, OVI completed the largest open-ocean cleanup in history—recovering and upcycling, recycling and repurposing some 340,000 pounds (170 tons) of plastics. We're now preparing to take these proven methods to scale.
Over the last four years, OVI has developed and successfully employed satellite-tracking technologies to locate and recover some of the largest and most destructive of all plastic pollution—enormous "ghost nets," derelict fishing gear, that drifts below the ocean's surface, entangling ships and entrapping wildlife. In addition to our removal of ghost nets, we have removed tons of consumer debris – both that has been caught by the ghost nets and scooped up by our ships.
With a lead grant from Matson Navigation Company, OVI has launched a campaign to build and operate two custom-designed sailing vessels, enabling OVI to extend our clean-up operations beyond the summer months and focus on collecting plastics in areas of the Pacific most at risk, including Marine Protected Areas.
"OVI's proven method for removing plastics from the ocean efficiently and sustainably is a scalable, viable global solution," says Matson CEO and Chairman Matt Cox. "Matson is proud to support this project, and we look forward to continuing our partnership with OVI to advance its important work in the years to come."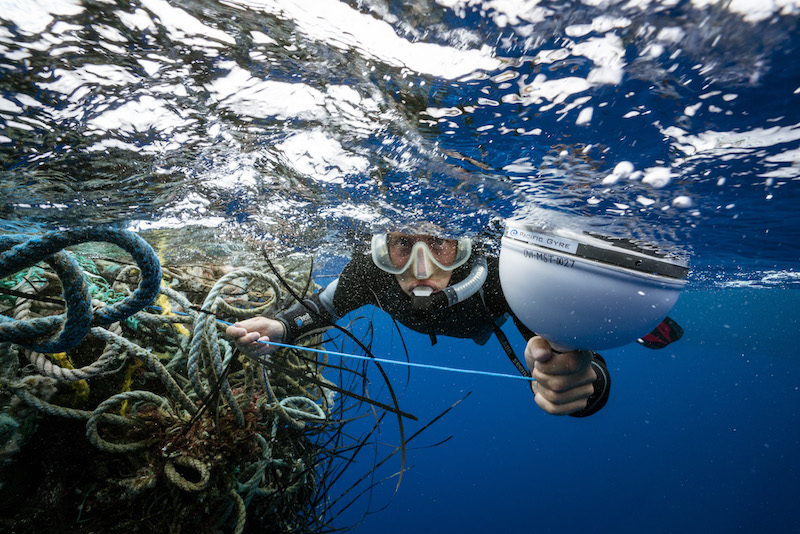 MARY CROWLEY, OVI FOUNDER, KEYNOTE SPEAKER AT OCEANS SUSTAINABILITY CONFERENCE
Mary Crowley, founder and president of Ocean Voyage Institute, was featured as a plenary speaker at the OCEANS 2023 conference in Limerick, Ireland, June 5-8, 2023.
Since 2009, Mary has led research voyages to the North Pacific Gyre studying plastic debris distribution and conducting cleanups. In her plenary remarks, Mary will discuss Ocean Voyages Institute's use of technologies, including GPS, to tackle this escalating problem.
Mary previously served as Executive Director of the Oceanic Society, publisher of Oceans magazine and on the boards of Project Jonah, the Maritime Museum of San Diego, Sail San Francisco and other organizations working to improve the health of oceans.
Global thought leaders and innovators in marine technology, engineering, science, research and education gathered in Limerick to learn from industry experts and discuss current environmental issues and policies in order to move the fields of marine technology and engineering forward.
WE CAN ALL BE OCEAN HEROES
Due to the proliferation of plastics and other toxic elements entering our ocean, our work and expertise must be scaled up and focused on ocean health, education and inspiring people to stop using our ocean as a garbage pail and start to effectively cleanup our ocean environment.
Ocean Voyages Institute's cleanup technologies are proven, effective and efficient. OVI's cleanup processes are designed to improve the habitat for sea life and save the lives of whales, dolphins, sea turtles, fish and other marine life. With over 40 years of maritime experience and over a decade of expertise in removing plastic from the ocean, OVI is a world leader in ocean cleanup.
Protecting the ocean environment is a major aspect of our ocean cleanup work. Our methods are scalable and can be used with partners throughout the world. OVI is asking for donations and financial support in order to achieve our goal of removing more than a million pounds of plastic from the ocean in 2023.
For additional information on Ocean Voyages Institute and our work please contact Mary Crowley (+1.415.999.2426 / Mary@oceanvoyagesinstitute.org) or our office (+1.415.332.4681 / info@oceanvoyagesinstitute.org)