Solving a problem starts with knowing that you have one. Ocean Voyages Institute's Ocean Cleanup Initiative vividly shows how discarded plastics are clogging the ocean, causing a major problem for the planet's vital "blue heart,"entangling marine life and insidiously killing as it accumulates in the food chain, from tiny plankton to great whales. Best of all, the mission highlights hope with ideas for positive action.
~ Dr. Sylvia Earle, National Geographic Explore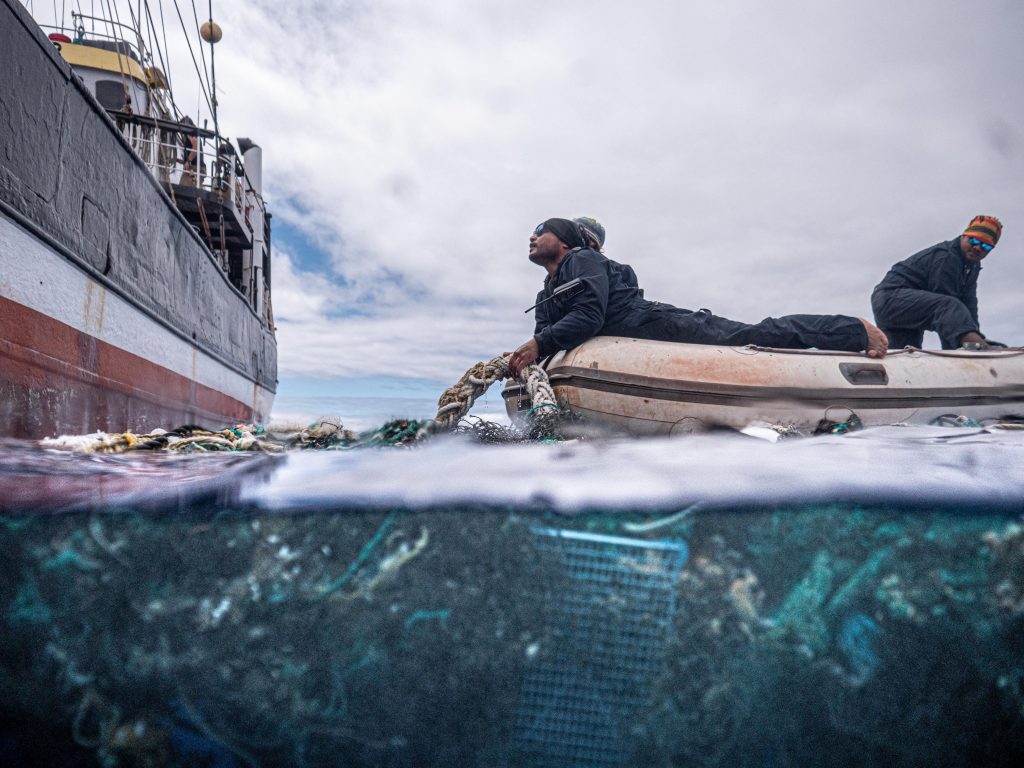 CAMPAIGN TO EXPAND OCEAN CLEANUP EFFORT
Since 2009 Ocean Voyages Institute (OVI) has been sounding the alarm about the mounting threat of ocean plastics—and finding solutions. [Add sentence about all Gyre voyages] In our eight cleanup voyages to the Pacific Gyre, mid-way between California and Hawaii, OVI had retrieved more than 700,000 pounds of plastic debris—ranging from household plastic trash to abandoned fishing nets. In 2020, OVI completed the largest open-ocean cleanup in history—recovering and upcycling, recycling and repurposing some 340,000 pounds (170 tons) of plastics. We're now preparing to take these proven methods to scale.
Over the last four years, OVI has developed and successfully employed satellite-tracking technologies to locate and recover some of the largest and most destructive of all plastic pollution—enormous "ghost nets," derelict fishing gear, that drifts below the ocean's surface, entangling ships and entrapping wildlife. In addition to our removal of ghost nets, we have removed tons of consumer debris – both that has been caught by the ghost nets and scooped up by our ships.
With a lead grant from Matson Navigation Company, OVI has launched a campaign to build and operate two custom-designed sailing vessels, enabling OVI to extend our clean-up operations beyond the summer months and focus on collecting plastics in areas of the Pacific most at risk, including Marine Protected Areas.
"OVI's proven method for removing plastics from the ocean efficiently and sustainably is a scalable, viable global solution," says Matson CEO and Chairman Matt Cox. "Matson is proud to support this project, and we look forward to continuing our partnership with OVI to advance its important work in the years to come.
In today's competitive market environment, the body copy of your entry must lead the reader through a series of disarmingly simple thoughts.
All your supporting arguments must be communicated with simplicity and charm. And in such a way that the reader will read on. (After all, that's a reader's job: to read, isn't it?) And by the time your readers have reached this point in the finished copy, you will have convinced them that you not only respect their intelligence, but you also understand their needs as consumers.
As a result of which, your entry will repay your efforts. Take your sales; simply put, they will rise. Likewise your credibility. There's every chance your competitors will wish they'd placed this entry, not you. While your customers will have probably forgotten that your competitors even exist. Which brings us, by a somewhat circuitous route, to another small point, but one which we feel should be raised.